2015 kicks of with the premier of "Brother Sister" composed by Dom Shovelton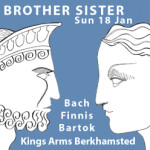 Dom's new composition for violin & 'cello 'Brother & Sister' will be premiered this January by Clare O'Connell (cello) & Daniel Pioro (violin)  of Chroma Ensemble. Written by Patrick Sherwen & read by the talented   & charismatic actor Trevor Allan Davies.
The new work supports a fresh take on the relationship between Zeus & Hera and will be performed as part of Chroma's series at the Green Room, Kings Arm's, Berkhamsted on January 18th.
For more information check out www.chromaensemble.co.uk